4015 (1679-1680)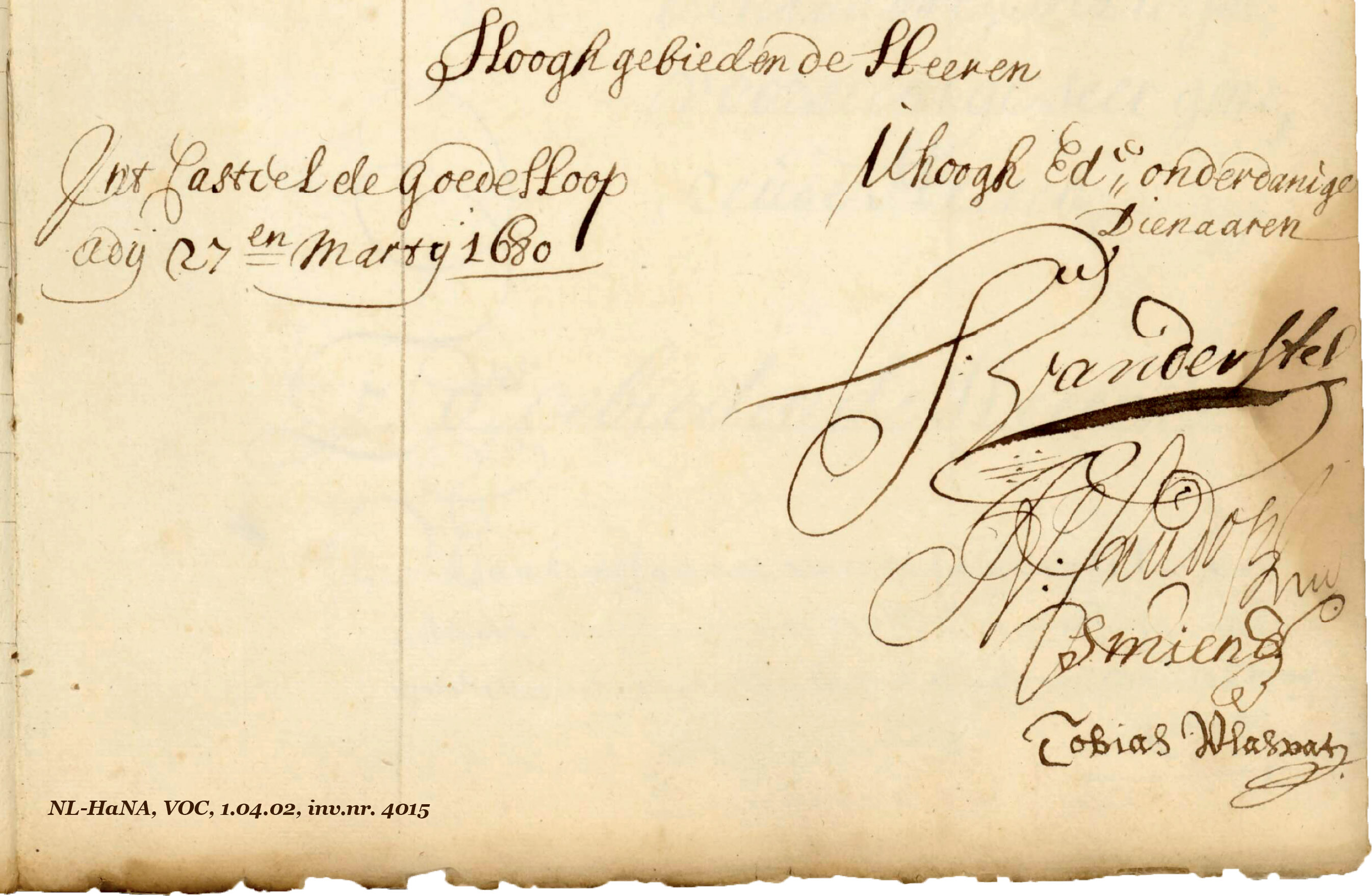 Missive to Seventeen signed by Commander Van der Stel and members of the Council on 27 March 1680.
This volume contains papers and letters for the period 1679 to 1680 and were received in the year 1680.
During this period, the provisional head, Hendrick Crudop is replaced by the new commander of the Cape, Simon van der Stel, who arrives on the 12th of October 1679 as noted in the day journal.
Folio 31 was not bound in sequence; it was bound in-between folios 33 and 34.
Folio 97 of the resolutions is not present; it was probably not scanned.
This volume is quite small compared to previous years. Many of the normal documents of administration were not included like the company books (ledgers, journals, etc.) and lists of company employees and free burgers.
Table of contents VOC archive 4015 (1679-1680)
folios
content
start image
...
Register van de vrieven en papieren overgecomen van de Cabo de Bonne Esperance in den jaere 1680
5
1...26
Originele missive door den Commandeur Simon van der Stel en den Raet in 't Fort de Goede Hoop den 23n Xber 1679 geschreven aen de Vergaderingh der Heeren Zeventiene
7
27...31
Originele missive door het Opperhooft Isaacq Johan:s Lamotius en den Ret in 't Comptoir Mauritius den 10n April 1679 geschreven aen de Vergaderingh der Heeren Seventiene
40
32...56
Copia missive door den Gouverneur Generael en de Raden van Indien uijt Batavia den 11n October 1679 geschreven aen den p:l Gesaghebber Hendrick Crudop en den Raet aen de Vabo de Bonne Esperance
45
57...64
Copia missive door den voorn: provisionelen Gesaghhebber en den Raedt in dato 7 Junij 1679 geschreven aen den Gouverneur Generael en de Raden van Indien
72
65...66
Originele missive door den Commandeur en den Raedt in 't Fort de Goede Hoop den 9 Feb: 1680 geschreven aen de Vergaderingh der Heeren Seventiene
81
67...
Register van pipieren
83
68...89
Originele missive door den Commandeur en den Raet int Fort de Goede Hoop den 27n Martij 1680 geschreven aen de Vergaderingh der Heeren Seventiene
84
90...91
Originele missive door den Commandeur en den Raedt in 't Fort de Goede Hoop den 27n Martij 1680 aen de Camer Amsterdan particulier geschreven
108
92...121
Copia resolutien aen de Cabo de Bonne Esperance genomen sedert 7 Junij 1679 to 12 Feb: 1680
112
122...220
Copia afgaende brieven van de Cabo de Bonne Esperance beginnende met 2n April 1679 en eijdigende 16n Februarij 1680
145
221...310
Daghregister der dagelijcxe voorvallen van den jaere 1679 gehouden in 't Casteel de Goede Hoop aen de Cabo de Bonne Esperance
248
311...335
Criminele en civile rolle van den jaere 1679
355
336...
Rolle van de aencomst en vertreck der schepen aen de Cabo de Bonmne Esperance a:o 1679
386
337A...
Memorie van de personen die met procuratie haer reeck: van verdiende maentgelden naer 't vaderlant overgemaeckt hebben
387
337B...
Oncost reeck: van 't schip de St: And:s
389
338...339
Copia verklaringh hoedanigh de goederen p:r Nieuw Middelburgh aen gebracht met de facture hebben gerespondeert
391
---
Link to the digital archive: 4015 (1679-1680)
---