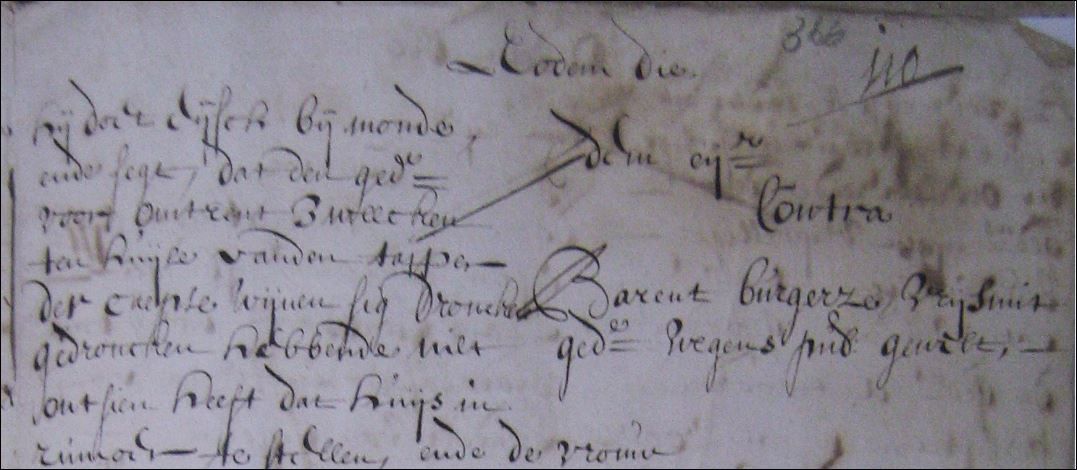 CJ 2:110 Barend Burger - Court Case Minutes 1688
Court of Justice, Records of Proceedings: Original Rolls and Minutes (Criminal and Civil) 1674-1688, CJ 2 ref. 110 p. 366, Barend Burgerze.
Kaapstad Argiefbewaarplek : Raad van Justisie : CJ 2 (ou no. 1597) – No. 110, p. 366
Fiskaal teen Barend Burger, 31 Maart 1688, Openbare geweld.
Soos so baie van sy tydgenote het Barend Burger ook geswig vir die versoeking om te veel van die Kaapse wyn, wat volop was, te drink. Dit het gelei tot 'n woordewisseling met die taphuiseienaar, waarna hy tot geweld oorgegaan het deur haar met die vuis dwarsdeur die gesig te slaan. Hierna het hy 'n mes "getrek" waarvoor die Hollanders en Duitsers aan die Kaap so berug was en haar en die weduwee Overneij daarmee gedreig. Sy verweer was dat hy so baie gedrink het, dat hy niks kon onthou nie. Hy word gevonnis tot geséling en 'n boete van eenhonderd en vyftig gulden met koste aan die staatskas.
Transkripsie van CJ 2-110, p. 366
C.J. van Breda - 2014