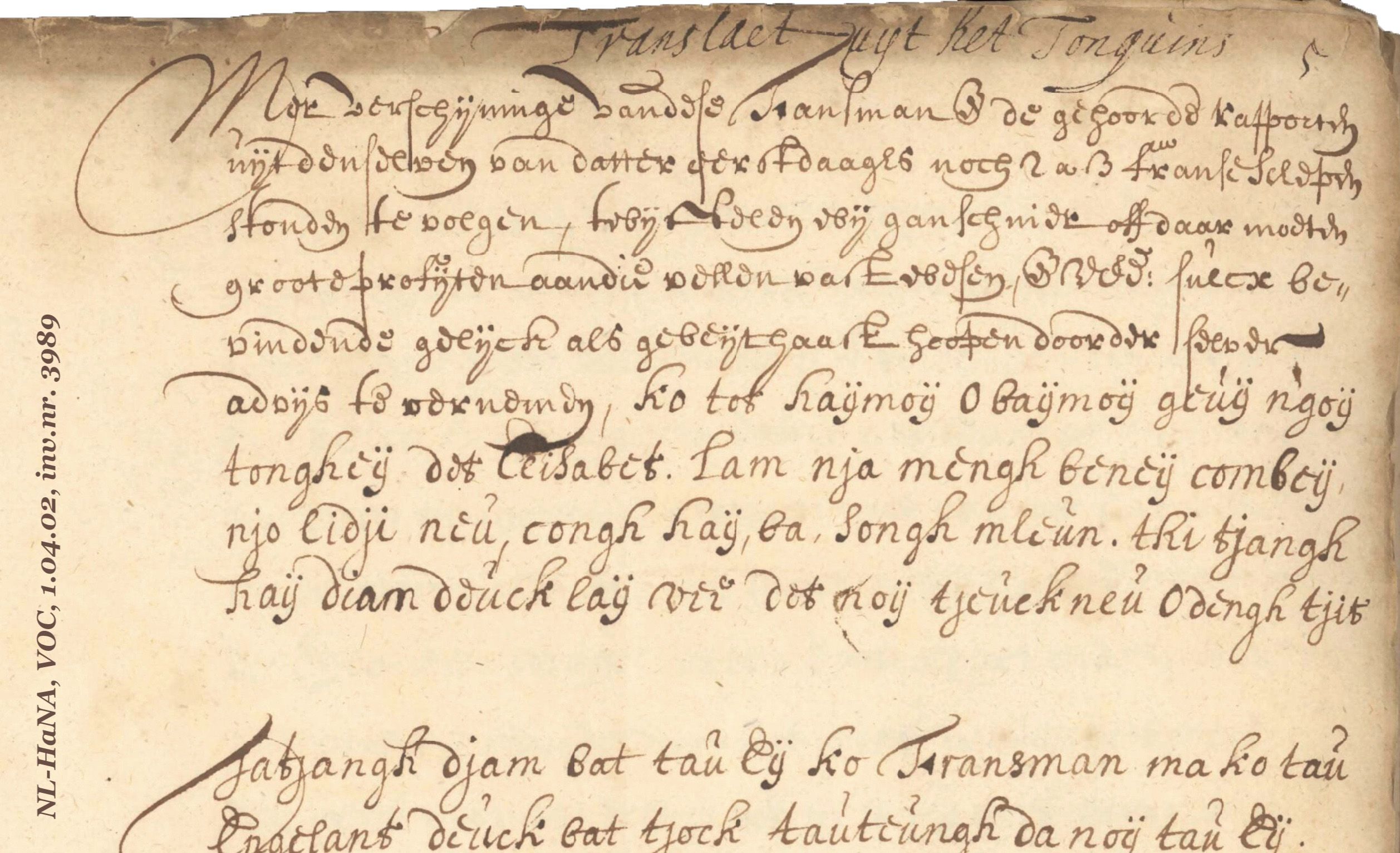 3989 (1653-1654)
Several folios with maps, namely fo. 203 up to and including fo. 208, are not present in this bound volume. They may have been removed to the map collections. A note inserted before the table of contents reads: 'Bij het herbinden van dit register op 1 Mei 1901 is bespeurd dat blz. 203 tot en met blz 207 ontbraken'. Folio 208 is indexed a second time; it is present.
The daily journal (daghregister) and the resolutions (resoluties) were indexed as one set. The journal starts on folio 58 and the resolutions on folio 122.
Folios 145 to 164 contain the journal and ledger, however the ledger only starts with folio 164v and continues for 25 double-page spreads not number by folio numbers.
Folios 179 verso and 180 recto are not present and may not have been scanned.
This volumes also contains several documents pertaining to the trade in Persia and Surat, starting with an index on folio 213 followed by a second index on folio 270.
Table of contents VOC archive 3989 (1653-1654)
folios
content
start image
...
Register van de brieven en papieren van desen boeck gecomen van de Caep de Bone Esperance, oock [medwinge] do:s van Parsia ende Suratte als weten
9
1...4
Originele missive van Jan van Riebeeck geschreven den 13n Octob: 1653 in't Fort de Goede Hope aen de Heeren Bewinthebberen
13
5...
Translaet uijt 't Tonquijns
27
6...
Resolutie getrocken bij Jan van Riebeecq etc. in 't Fort voorsz: omme te onderstaen wat voor een schip datter in de Baij van Saldanha lagh
29
7...
Notitie van 't geene in de voorsz: Baij hebben vernomen
9...21
Originele missive gesz: in 't Fort de Goede Hope den 22 April 1654, aan de H:rn 17ne
37
22...
Petitie voor de Caep
65
23...57
Copijen missiven, instructien ende memorien voorgevallen op voorsz: fort
71
58...144
Dagh register gehouden op 't voorsz: fort met eenige resolutien
153
145...164
Journael en grootboeck
347
165...184
Verscheijde reeckeningen van montcosten
445
185...196
Civiele ende criminele rollen
485
197...202
Eenige placcaten
515
203...
Platteforme van 't Fort de Goede Hope met het besteck van de thuijndack aen gelegen
204...
Do: van de redout Duijnhoop
205...
Pascaert van de Tafelbaij etc.
206...
Houtbaij
207...
Baij Falsa
208...
Robben Eijlant, Dassen Eijlant, Saldanha Baij
208...
Instructie voor de opperhoofden van 't galjot de Tulp, omme van hier te vertrecken nae St. Helena
527
210...
Missive aen de Commandeur ende opperhoofden van de retour vloot aen St. Helena in dato 22 April 1654
531
213...
Register der Parsische brieven soo die vervolgens daer achter sijn gebonden, met hare nomb:rs
539
270...
Register als voorn
683
---
Link to the digital archive: 3989 (1653-1654)
---