4012 (1676-1677)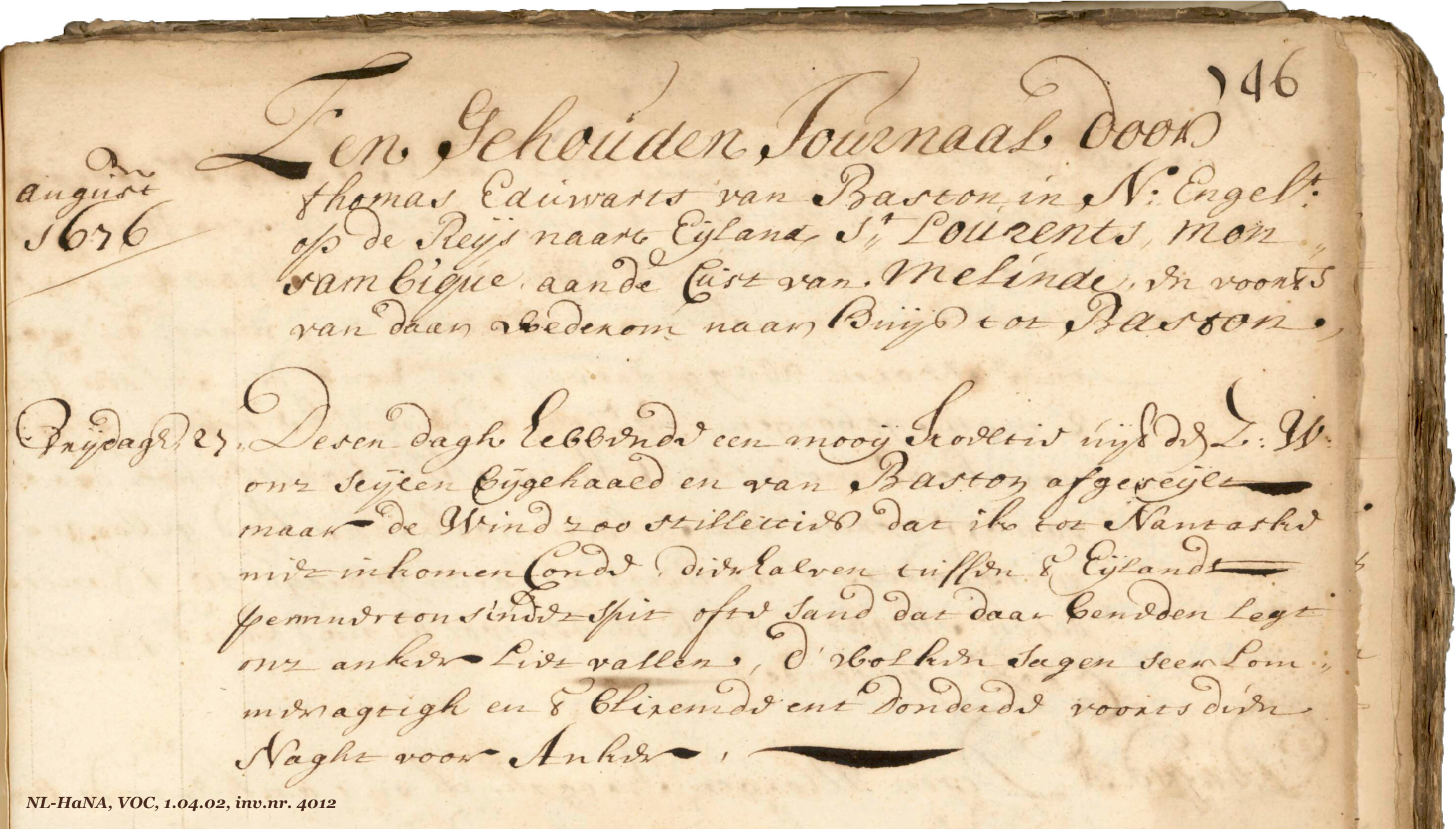 Extract from ship Society's logbook of it's journey from Boston in New England to Madagascar by Thomas Eduwarts.
Several folios in the digital archive are not present, but are present in the bound volume and may not been scanned. They are the following:
- Folios 6 and 24 of the missive;
- Folio 89 of the resolutions;
- Folios 246 and 268 of the 'Daghregister'.
Even though folios 666 and 667 of the logbook of the yacht Voorhout are not present, no pages appear to be missing in the sequence, and it seems that the two page numbers were accidently skipped while numbering them.
Table of contents VOC archive 4012 (1676-1677)
folios
content
start image
...
Register van de brieven en papieren van de Cabo de Bonne Esperance overgenomen met de retour vloodt in den jaere 1677
9
1...49
Originele missive door den Gouverneur Joan Baex van Herentals en den Raet aen de Cabo de Bonne Esperance geschreven aen de Vergaderingh der Heeren Seventiene in dato 14 Martij 1677
13
50...52
Particuliere missive door den voorn: Gouverneur en Raet aen de Camer Amsterdam geschreven in dato 14 Maert 1677
60
53...96
Copia resolutie beginnende met den 19 Maert en eijndigende ult:mo Xber 1676
66
97...167
Copia brieven successive van de Caep affgegaen begonnende met den 22 Martij en eijndigende den 21 Xber 1676
109
168...372
Daghregister gehouden aen de Cabo de Bonne Esperance van den jaere 1676
181
373...420
Criminele en civile rolle van den jaere 1676
384
421...
Lijste van de aencompste en vertrecl der schepen aen de Cabo de Bonne Esperance 't sedert den Junij 1676 tot 14 Maert 1677
452
422...423
Generale rolle van 's Comp:s dienaeren soo als deselve op 15 Maertij 1677 aen Cabo de Bonne Esperance in emploij sijn bevonden
454
424...
Generale rolle van de vrije luijden en haeren verdere ommeslagh in Maert 1677 opgenomen
457
425...510
Specificatie boeck van oncosten van den jaere 1676
461
511...520
Uijtgaende facturen en cognossementen van den jaere 1676
551
521...571
Cassa boeck van den jaere 1676
563
572...594
Scheeps oncosten boeck van den jaere 1676
619
595...637
Journael en groot boeck van de winckel van den jaere 1676
648
...
Van Mauritius
638...
Register van brieven en papieren
702
639...646
Originele missive door den Commandeur Hubert Hugo en den Raet in dato 10 Septb: 1676 aen de Vergaderinge der Heeren Seventiene geschreven
704
647...652
Copia missive gesz: als voren in dato 25 Julij 1676
712
653...654
Vier attestatien nevens extract uijt de missive door den Command:r Hugo den 18 Maert 1675 aen den Gouverneur Generael en Raden van Indien gesz:
718
655...
Copia reeck: van den gewesen coopman Wrede
721
656...661
Copie missive door den Command:r en Raet van Mauritius den 10 Septb: 1676 aen den Gouverneur Joan Bacx van Herentals en den Raet aen de Caep gesz:
722
662...
Originele attestatie jegens Jan van Westphalen
730
...
Van de Caep
663...
Cerificatie raeckende 't renoveren van Comp:s possessie en oprechten der wapenen in de Saldania Baeij en daer om hergelegen eijlanden
731
664...703
Copie journael gehouden bij de opperhoofden van 't jachtje Voorhout op haer voijagie naer Madagascar tot den slaven handel
732
704...705
Cort relaes van de situatie van 't Eijlandt Madagascar etc.
770
706...745
Journael en grootboeck raeckende de negotie bij de van 't jachtje Voorhout op Madagascar gedaen
773
746...788
Getranslateert copie journael gehouden bij die van 't Engels scheepje de Societeijt 't sedert haer vertreck uijt Baston in Nieuw Engelandt tot aen het Eijlant Madagascar
822
789...
Memorie der verstreckte goederen aen 't Engels schip de Phœnix
868
790...
Copie request door 6 Fransen van 't Eijlant Mauritius gecomen overgelevert
870
791...792
Jacob de Werelt van de mineralen en berghwercken aen de Cabo de Bonne Esperance
872
793...
Attestatie nopende de bevindinge van een casken met copere coralen
874
794...795
Memorie van de persoonen die met procuratie haer reeck: hebben overgemaect
876
796...797
Cort relaes wegens de voornaemste bevindingee op de voijagie naer 't Eijlant Madagascar door 't jachtje Voorhout gedaen
878
798...
Copia extract uijt de missive door den Goeverneur Generael en de Raden van Indien den 27en Novemb: 1676 aen den Gouverneur en den Raet aen de Caep gesz:
880
799...801
Twee missivens door den E: Jacob de Werelt gesz: uijt het schip de Vrijheijt in dato 8 Xber: en 20 Aug: 1676
884
802...
Register van brieven en papieren
887
803...813
Originele missive door den Gouverneur Joan Bacx en den Raet den 22 Maij 1677 aen de Vergaderinge er Seventiene gesz:
888
814...
Originele d:to door den voorn: Gouverneur en Raer den 22 Maij 1676 aen de Camer Amsterdam in 't particulier gesz:
900
815...818
Eijsch van nootwendigheden voor de Cabo de Bonne Esperance voor den jare 1678
903
819...820
Authenticque copie van het schriftelijck relaes van den schipper op Croonenburgh raeckende het te cort comen van de rijst
907
821...
Inventaris en vercopinge van de goederen en naelatenschap van den schipper Jacob Harckse en den adsistent Pieter Jacobse van Rhijn
909
---
Link to the digital archive: 4012 (1676-1677)
---