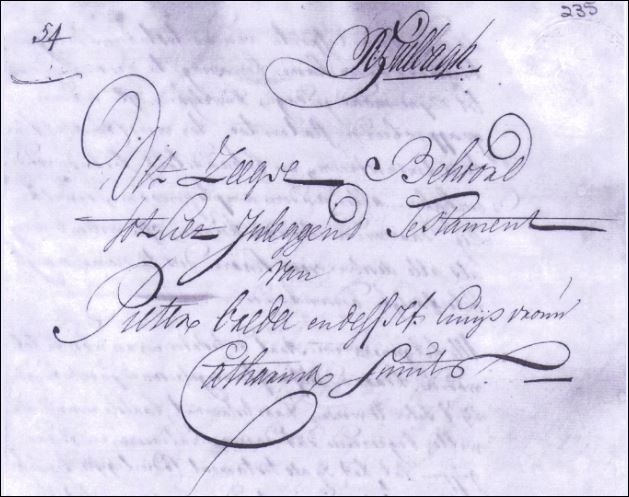 Council of Justice: Wills and Codicils - Prepared in Office of Council of Policy (1727 July - 1731 February)
CJ 2653 ref. 54, pp. 235-239: Pieter Breda and his wife Catharina Smuts
Raad van Justisie: Testamente
CJ 2653 – 54 (pp. 235 – 239): Gesamentlike Testament van stamvader Pieter van Breda en Catharina Smuts: Gedateer 8 Julie 1729.
Stamvader Pieter van Breda het op 17 Augustus 1721 in die huwelik getree met Catharina Smuts. Hul seun is in 1722 gebore en dogter in 1724. Op 8 Julie 1729 verskyn hul voor Nicolaas Leij om hul testament op te stel, omdat soos hul dit stel, bewus is van die sekerheid van die dood maar onseker van die tyd van sterwe. Hulle herroep alle vorige testamente en stel die langslewende aan as erfgenaam en eksekuteur van die boedel met dien verstande dat geen tweede huwelik aangegaan word deur die langslewende nie. Indien die langslewende weer trou moet die helfte van die boedel aan die kinders uitbetaal word. Indien hul sonder kinders te sterwe kom, moet die boedel aan hul moeders Maria Canarie, weduwee van Dirk van Breda in Asperen, Nederland en Cornelia Eenmaal, weduwee van Hendrik Schreuder uitgekeer word. Pieter van Breda is op 12 November 1756 oorlede en sy weduwee Catharina Smuts op 30 Junie 1781.
C.J. van Breda - 2014
Below is a link to the complete transcription and images of the will.
Transcript of CJ 2653 ref. 54, pp. 235-239
Images of CJ 2653 ref. 54, pp. 235-239