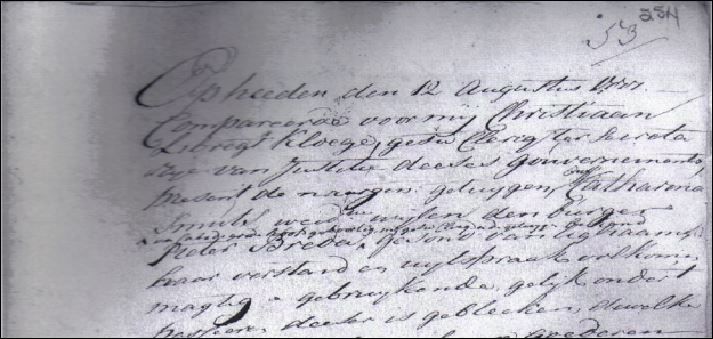 Council of Justice: Wills and Codicils, Prepared in Office of Council of Justice 1777
CJ 2631 ref. 53, pp. 254-257: Catharina Smuts widow of Pieter Breda
Raad van Justisie: Testamente
CJ 2631 – 53 (pp. 254 – 257): Testament van Catharina Smuts, weduwee van Pieter van Breda: Gedateer 12 Augustus 1777.
Stamvader Pieter van Breda is op 12 November 1756 oorlede en sy weduwee Catharina Smuts stel haar testament op 12 Augustus 1777 op voor C L Kloege en herroep hul gesamentlike testament van 8 Julie 1729. Haar seun Michiel van Breda is reeds oorlede op 17 Julie 1777 en sy benoem haar dogter, Maria van Breda, weduwee van Arend de Waal, as erfgenaam van die helfte van haar boedel en haar seun se kinders as die erfgename van die ander helfte van haar boedel. As eksekuteurs van haar boedel benoem sy haar dogter en haar oudste kleinseun, Pieter van Breda. Catharina Smuts is op 30 Junie 1781 oorlede.
Trankripsie van CJ 2631 ref. 53, pp. 254-257
Afbeeldings van CJ 2631 ref. 53, pp. 254-257
C.J. van Breda - 2014