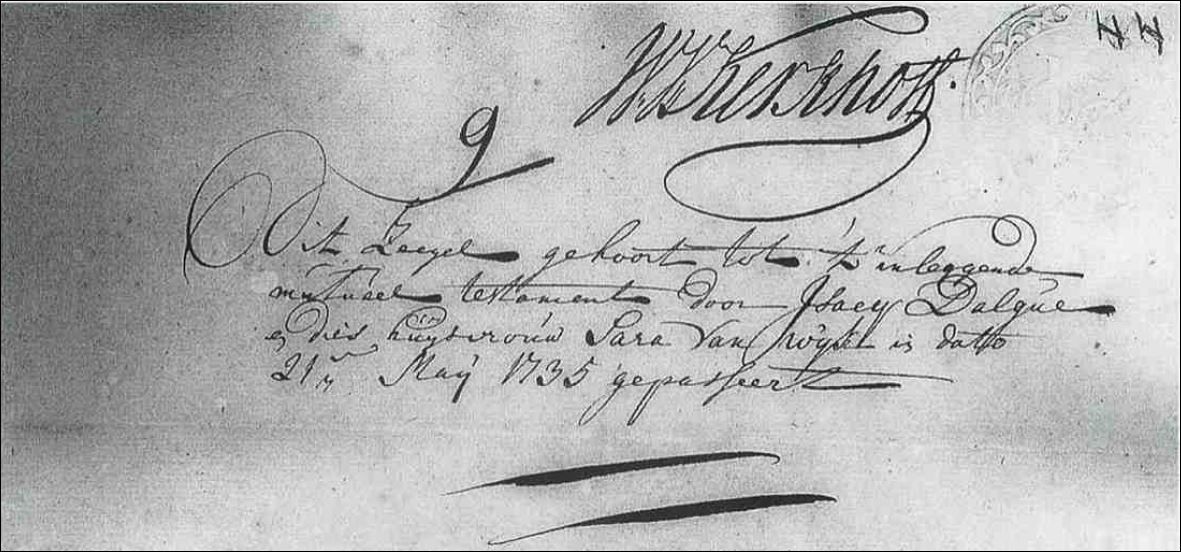 Council of Justice: Wills and Codicils - Prepared in Office of Council of Justice (1735)
CJ 2607 ref. 9, pp. 44-49: Isacq Dalgue (aka Johannes Augustus Dreijer) and his wife Sara van Wijk
This is the will of Isacq Dalgue - stating here that his real name is Johannes Augustus Dreijer of Holstein- and Sara van Wijk of the Cape of Good Hope, drawn up on 21 May 1735. At the time the testator is ill and this is probably one of the reasons for drawing up this will. The testators declare their previous will, dated 7 June 1721, null and void. Further declaring as heirs, each other, depending on who dies first, as well as their four children named Johannes Augustus, Sara, Thomas Frederik and Andreas, as well as any other children that may be procreated in the future. The testator also wishes that his children bear the surname of Dreijer as it is the name of his lineage and family. The testators further exclude the orphan chamber and the magistrates as executors of their estate and as guardians of their children.
Stamvader Johannes Augustus Dreyer arrived at the Cape as midshipman on 22 November 1713 under the assumed name of Ysack Dalgie (see NL-HaNA, VOC, 1.02.02, 5646, fo. 154.)
Below is a link to the complete transcription and images of the will.
Transcript of CJ 2607 ref. 9, pp. 44-49
Images of CJ 2607 ref. 9, pp. 44-49